St John Paul II Catholic College was originally established as Terra Sancta College in 1996.
It was founded as a result of the need identified by the local parish communities to establish a Catholic secondary school to serve the local parish communities as well as established Catholic primary schools of Mary Immaculate Quakers Hill, St Joseph's Schofields and St John's Riverstone.
The College has developed and grown with the community over the years, including the introduction to many new buildings and learning opportunities.
---
The JPII Pillars
CHRIST
Be not afraid to be people of CHRIST: Year 7
To make Jesus Christ the centre of our lives.
To encounter Jesus in the sacraments, especially Eucharist and Reconciliation.
Have trust and devotion to Mary who Jesus gave to us as our Heavenly Mother.
To pray each day in loving friendship with Jesus.
JUSTICE
Be not afraid to be people of JUSTICE: Year 8
To let Jesus' law of love and inspire our striving for justice.
To follow the example Jesus the prince of peace, who taught and lived out peace.
Who are people attentive to the spirit of justice and moved by the same spirit to act.
To live a life of justice for that is the face of love.
MERCY
Be not afraid to be people of MERCY: Year 9
Embracing a life of forgiveness and compassion.
Who entrust ourselves to the mercy of a loving and forgiving God.
For God is calling us to become witnesses to mercy in today's world.
Who walk in faith and charity always trusting in Jesus' mercy.
DIGNITY
Be not afraid to be people of DIGNITY: Year 10
To promote the good of the individual through service.
Who sees a person's rightful due to be loved in the image and likeness of God and not as an object for use.
Who opens their arms to welcome all people without distinction or limits.
That sees every person as sacred, including the unborn, sick and elderly, and deserves to be treated with dignity.
SERVICE
Be not afraid to be people of SERVICE: Year 11 & 12
To follow Jesus' example of sacrificial love of others.
To live out Jesus' commandment to "love one another as I have loved you".
Learning to think rigorously, to act rightly and to serve humanity better.
For it is not how much we give but how much love we put into giving.
---
Our History
In 2015, the College was renamed St John Paul II Catholic College to honour the canonisation of Pope John Paul II in 2014. Today the College continues to carry on the history and traditions of Terra Sancta College while building a new future for St John Paul II Catholic College.
From the moment that a student sets foot in a Catholic school, he or she should have a sense of entering a new environment; one enlightened by the light of faith and having its own unique characteristics.
A Catholic school should first of all be a good school, a place where formation of the whole person occurs through a living encounter with a cultural inheritance. Thus, the school's education program is intentionally directed towards the growth of the whole person. It is essential to the nature of a Catholic school that this formation process is profoundly centred on Jesus Christ and his Gospel.
A good school will be a community where values are communicated through the entire network of relationships and structures that form the basis of school life, and also through a vision or outlook on life shared by the community and its members. In a truly Catholic sense, the values of Jesus' Gospel and the Catholic Tradition should permeate all areas of school life and curriculum, not just Religious Education. Thus the existence of a loving God, who has taken to Himself a human nature and so entered into human history, is not just assumed but is something explicitly stated.
Our land is full of the signs of God's love. It is the place where God is being revealed to us, literally, the ground of our being and of our relationship with God and one another. It is the place that joins us to Christ in his Incarnation. This land is caught up in the cosmic rebirth initiated by Jesus in his death and resurrection. Truly, for us Australians, the Way to the Father's house passes through this land.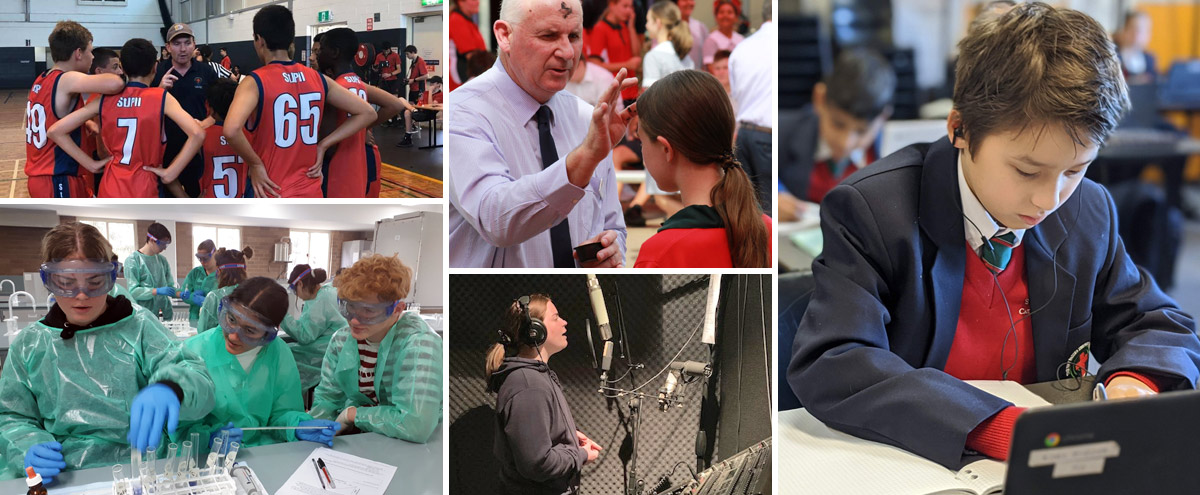 Today the college continues a strong tradition of academic achievement, performance and sporting excellence, offering a broad curriculum based on innovative learning, teaching and Catholic values.
We place students at the centre of learning, supporting them to do their own personal best in all aspects of their lives. We offer a unique and dynamic learning experience as well as a strong wellbeing support system delivered by dedicated staff working in partnership with the students and their families.
The dual campus nature of the college provides additional educational opportunities as well as extending the pathways to TAFE and University in Years 10, 11 and 12.
---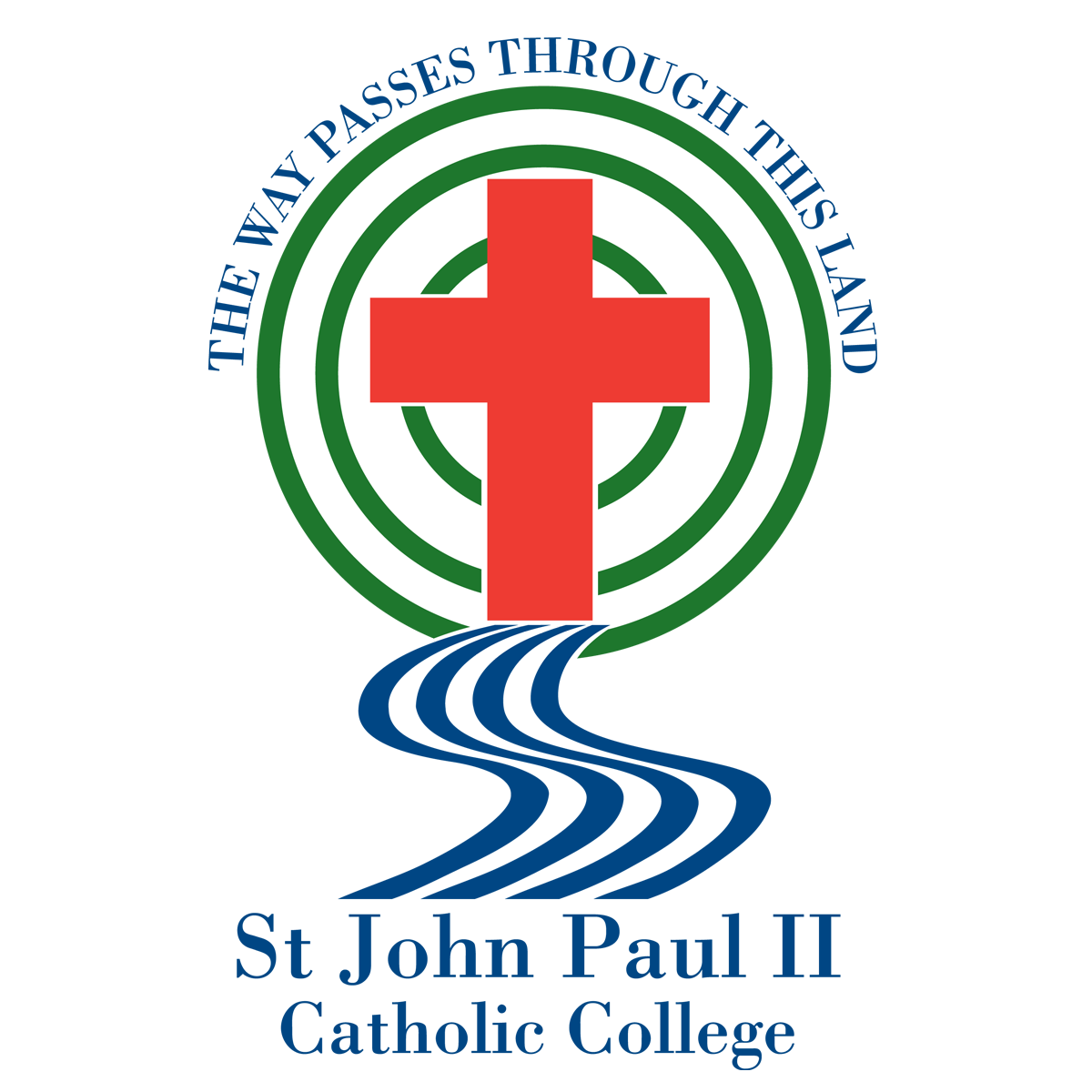 College Crest
The green concentric circles represent the gathering place. A gathering place for not only the indigenous people, but also for us at St John Paul II Catholic College when we gather for assemblies. The red cross represents Christ's sacrifice for humanity. The Blue wavy lines represent humanity walking toward the cross and then going out toward the world in a stream (as water is one of the important symbols of the Darug people). The white surrounding the cross is the Holy Spirit acting in our lives, surrounding us.
---
CollegeHouses