St John Paul II Catholic College places the student at the centre of learning.
It is our strong desire that our students are able to develop spiritually, emotionally, physically and intellectually to their own personal best. The young people of today, when nurtured by their parents/caregivers and supported by a caring and committed teaching staff, have a wonderful environment in which to reach and exceed personal goals.
The college offers a unique and dynamic learning experience delivered by a dedicated staff working in partnership with the students and their families. The dual campus nature of the college supports all the educational opportunities available on a single campus school while extending the pathways to TAFE and University.
The college is proud of the excellent academic results of our students in external examinations and we celebrate our students' willingness to embrace our values and ideals, based on the teachings of Jesus.
In the end our students, parents/caregivers and staff are the people who are best placed to welcome you and explain why enrolment at St John Paul II Catholic College promises to be a rewarding and fulfilling journey.
---
Exceptional Educators
Our leadership team and teachers that bring learning to life are passionate and creative, inspiring a love of learning in students every day. They foster exploration and innovation, drawing on students' passions, talents and learning styles to create an education that cultivates the whole child -- academically, socially, and emotionally.
---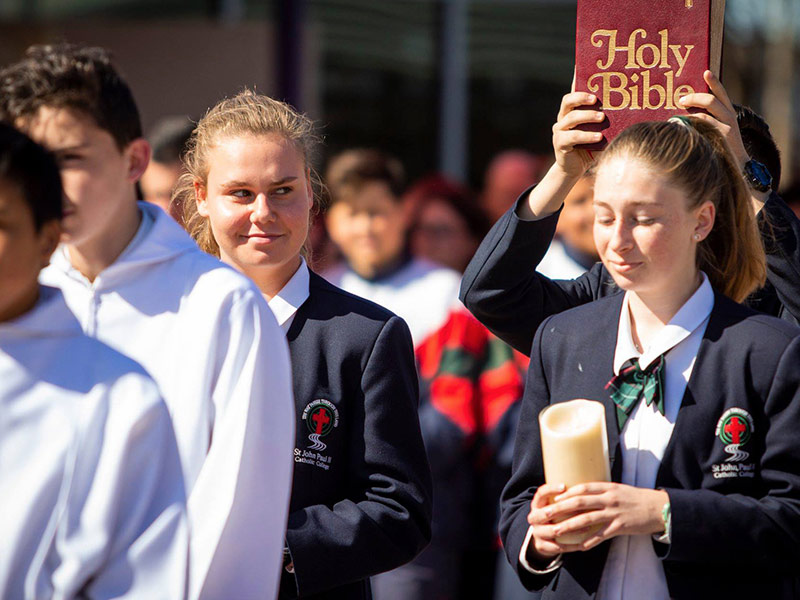 A Strong Faith Community
The College has a commitment to the faith development of our students.
St John Paul II Catholic College is a learning community which journeys together in the Catholic tradition and values its past as it anticipates its future as a strong faith community based on the teachings of Jesus Christ. St John Paul II Catholic College is open to new ideas, forward thinking and promotes active partnerships with its parishes, parents, caregivers, students and the wider community.
---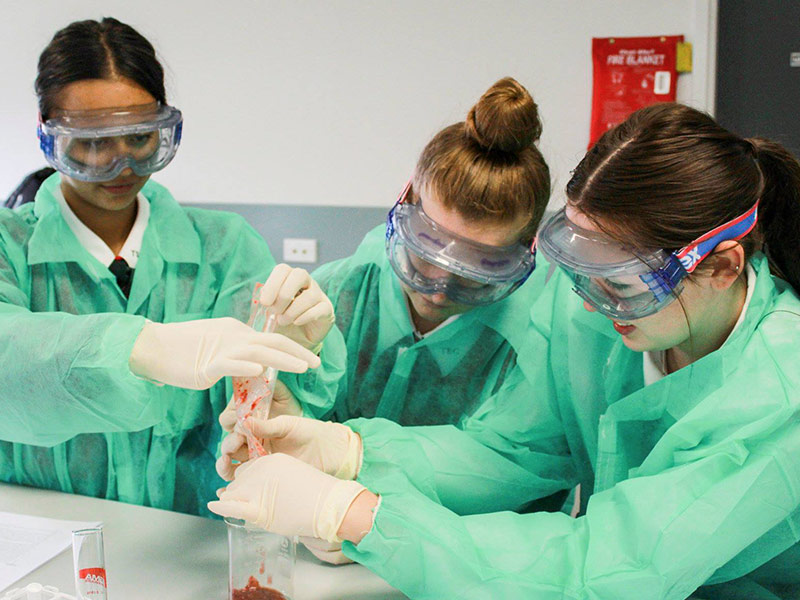 Careers, TAFE and University Opportunities
St John Paul II Catholic College develops students to be life-long learners and provides unique opportunities make an early start on university and TAFE courses that can give them an advantage in guaranteed enrolment to university or being able to graduate with graduate with a degree from the TAFE system.
Wonderful opportunities exist for our students to undertake first year units of higher education at UWS College, Nirimba in subjects such as Business, Science, Arts, Psychology, Law and Health. The Western Sydney Institute of TAFE, also located in the same education precinct as the Nirimba Campus, offers a range of courses to our students to begin during their studies from Year 10 through to Year 12 which can lead to a Diploma and/or Degree and an early start on their career path.
Career education also plays a significant role in College life. Careers assistance and education begins from Year 10, where students undertake a Vocational Assessment which can assist in their career decision making process. The College career program has assisted many students in attaining positive outcomes in their lives after STJPII.
---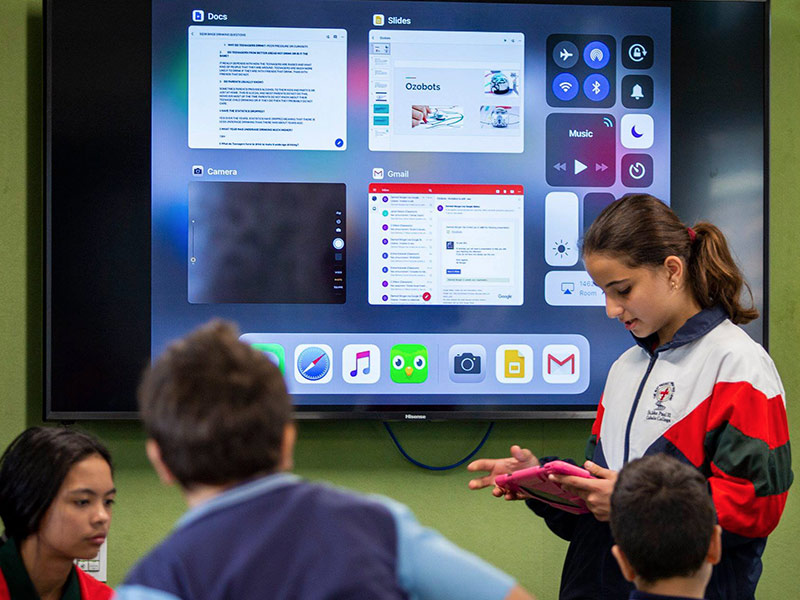 A unique and dynamic learning experience
St John Paul II Catholic College offers a very broad education that reflects the academic, social, physical and spiritual needs and interests of students.
Our learning and teaching programs place particular emphasis on the development and enhancement of literacy and numeracy skills across all key learning areas. Gospel values permeate all areas of the curriculum, not just Religious Education, and we encourage every student to pursue individual excellence, celebrate their own successes and that of others, and respect the dignity of others.
---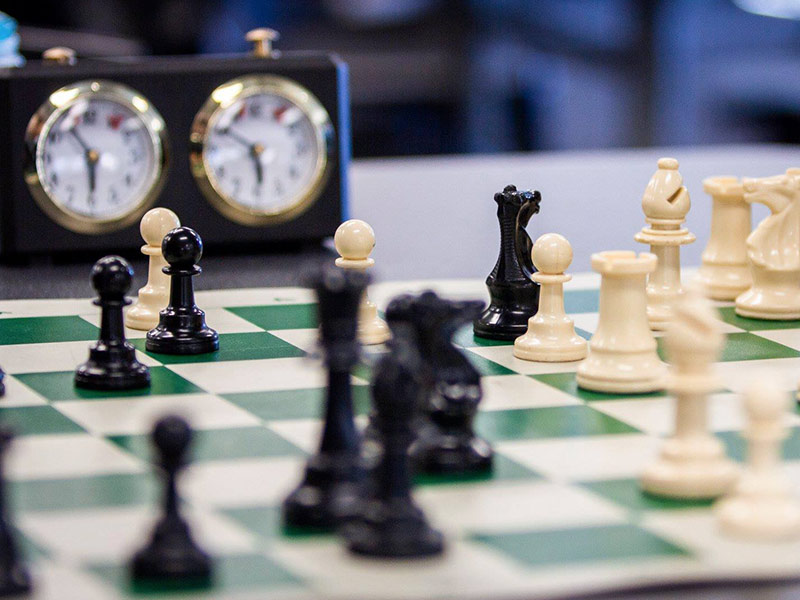 Learning Enrichment
St John Paul II Catholic College strives to provide a diverse learning environment where students can try new things or further their interest in an activity they already love.
A newly emerging tradition that the whole community is embracing is the Musical that is staged every two years. The musical is written completely by St John Paul II staff and performed by the students. The talents of all involved are a showcase of commitment, hard work and cooperation between staff, students and parents/caregivers.
Our new Learning Enrichment Clubs offer fun and engaging programs designed to enrich the diverse interests, passions, and strengths of our students. Whether they're looking for ways to sharpen their creativity, try new athletic pursuits, or challenge their minds, students will find a wide variety of clubs and activities to excite them. Activities include:
Film Club
Book Club
Chess Club
Wrap with Love
Origami Club
Italian Club
Art Club
Writing Club
Fitness Club
Youth For Christ Club
Music Club
Drama Club
Youth For Christ
Minecraft Club
Better Schools and Gardens
---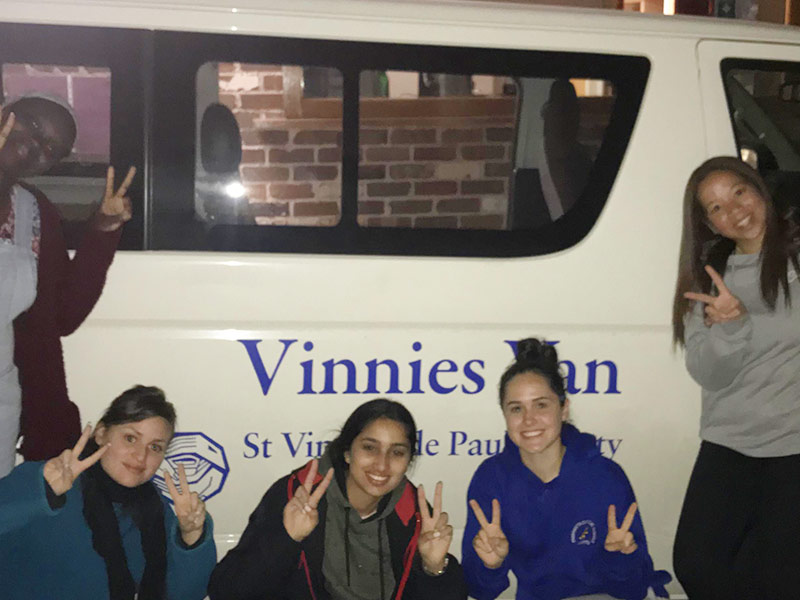 Making a difference to the world
As a Catholic community, social justice is paramount to our spiritual life and is not only an obligation of our baptism but also an expression of our faith in action. The college encourages all students to become aware of a variety of global social justice issues and we have a strong, ongoing commitment to social justice issues which are at the forefront of many student extra-curricular activities.
This is clearly shown through the ongoing support of Caritas Australia, St Vincent de Paul and through student volunteer on the 'Vinnies Van' serving the homeless and lonely members of the wider community through the preparation and delivery of meals.
---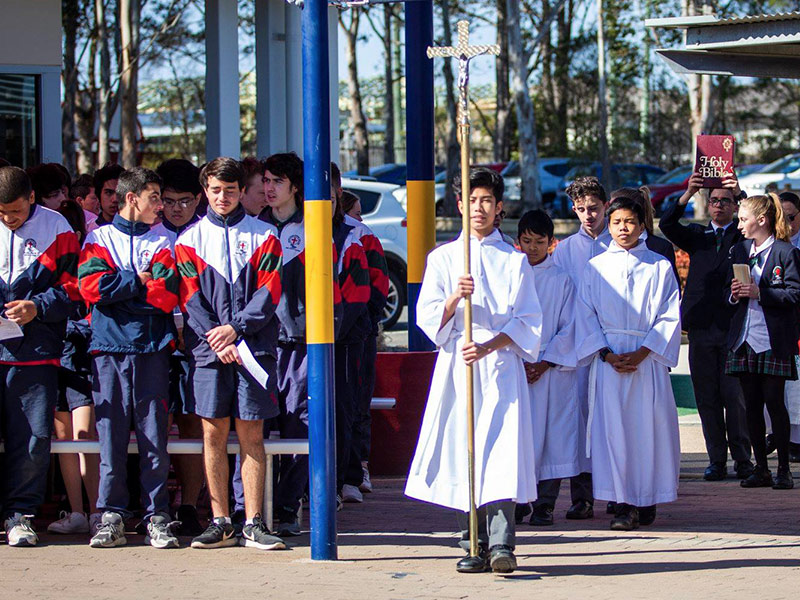 Prayer, liturgical life and faith experiences
Religious Education is an integral part of the curriculum at St John Paul II Catholic College and provides many opportunities for students to learn and grow in their faith, and participate in building an inclusive community committed to the Church and school. We have an active liturgical life and students are encouraged to participate in prayer, liturgical celebrations, retreat days, pastoral care camps as well as College and class masses and reconciliation.
---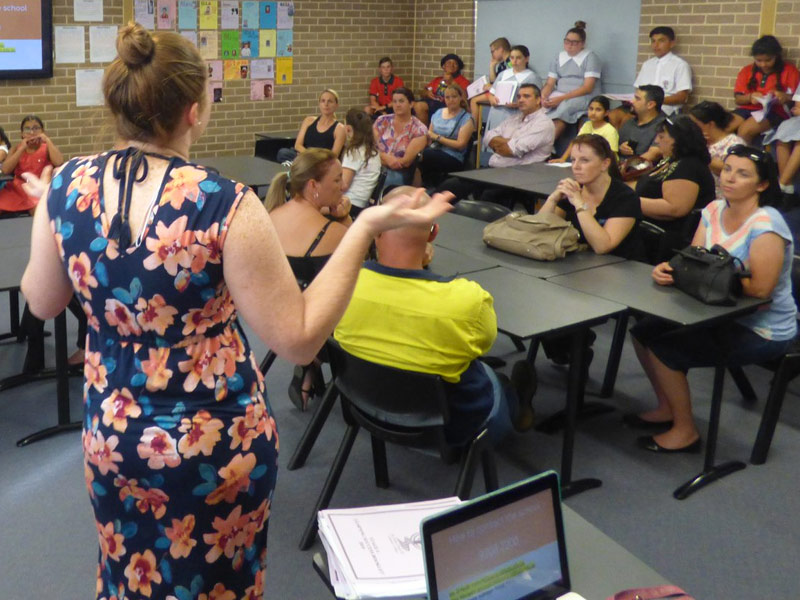 Strong partnerships between home and school
St John Paul II Catholic College encourages the development of strong partnerships between home and school. Parents are kept informed of school activities through newsletters, handbooks and the college and are encouraged to attend college information nights, display or performance nights.
As a Catholic learning community we are proud of the level of family involvement in our school community and encourage parents/caregivers to participate in all aspects of school life including information evenings, liturgical celebrations, fundraisers, working bees, principals' parent chat group and welcome BBQs. The college council is another avenue in which parents/caregivers are involved in the bigger picture of college development.
---
Integrating technology into all aspects of learning
St John Paul II Catholic College is a technology rich school that integrates technology into all aspects of learning and teaching. We believe that students should be equipped to deal with the digital world in which they live. The adoption of a number of 1 to 1 Parent/Caregiver Purchase Programs at St John Paul II Catholic College have given our students the capability to collaborate, share information and experiences and prepare them for the impacts of technologies in society both while they are at school and once they enter the workforce.
---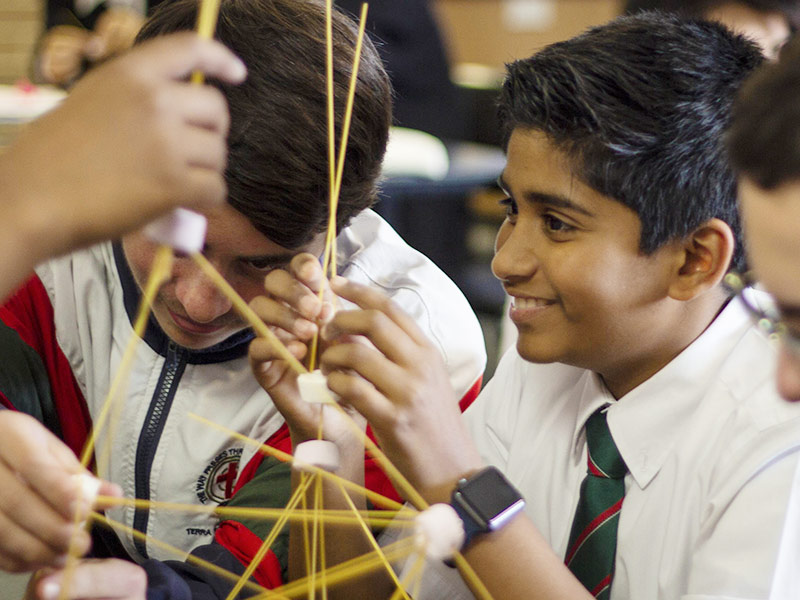 Supporting Diverse Learning Needs
The guiding principles of diversity are that all students can learn, all teachers can meet the diverse learning needs of students, given the right assistance, all within the school community (including parents) work together to ensure the learning of all students. St John Paul II Catholic College is committed to meeting the needs of all students within an inclusive framework. Rather than separating students from their teachers and peers, learning takes place, as much as possible, within the student's learning space and school.
The Learning Support Team works with students, classroom teachers and parents to devise personalised learning plans to support student learning.
---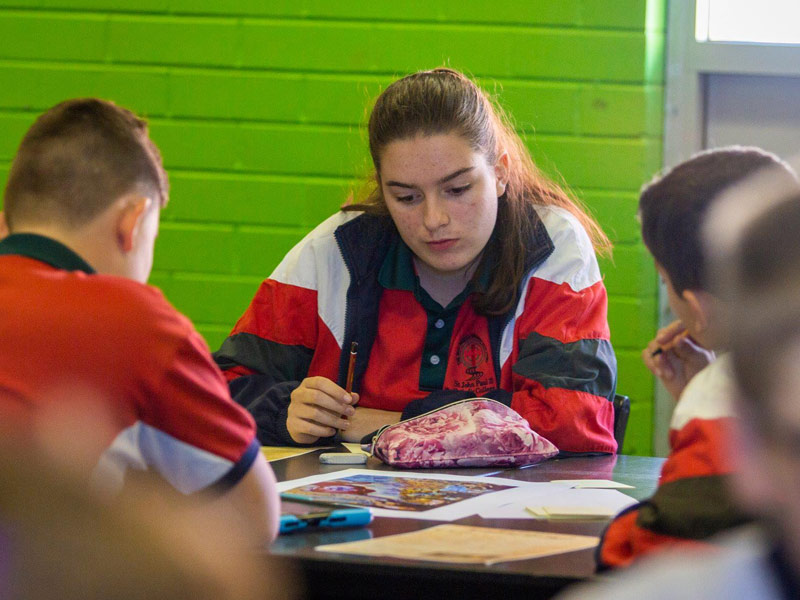 Counsellor
School counselling is available to all students and parents/caregivers at the school. Parents and caregivers can phone with concerns about their children, and that can just be to ask for some advice or to arrange for their child to meet the counsellor. Counselling is not just about problems. It can help students decide on their goals, increase their motivation, learn to manage their studies, and handle their stress, all with the aim of helping them to make the most of their time at school by building on their existing strengths.
---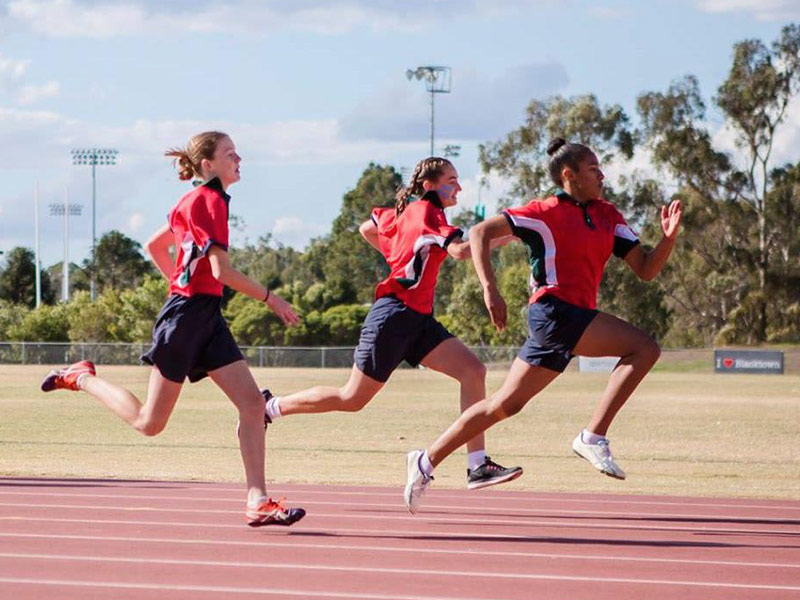 Pathways to sporting success
St John Paul II offers a great variety of representative sports to cater to the strong sporting culture we have at the College. All students have the opportunity to represent the College in the Metropolitan Catholic Schools and Metropolitan Combined Catholic Schools Competitions throughout the year.
Representative Sports include:
AFL
Athletics
Baseball
Basketball
Cricket
Cross Country
Golf
Hockey
Netball
OzTag
Rugby League
Soccer
Swimming
Tennis
Touch Football
Volleyball
Water Polo
---