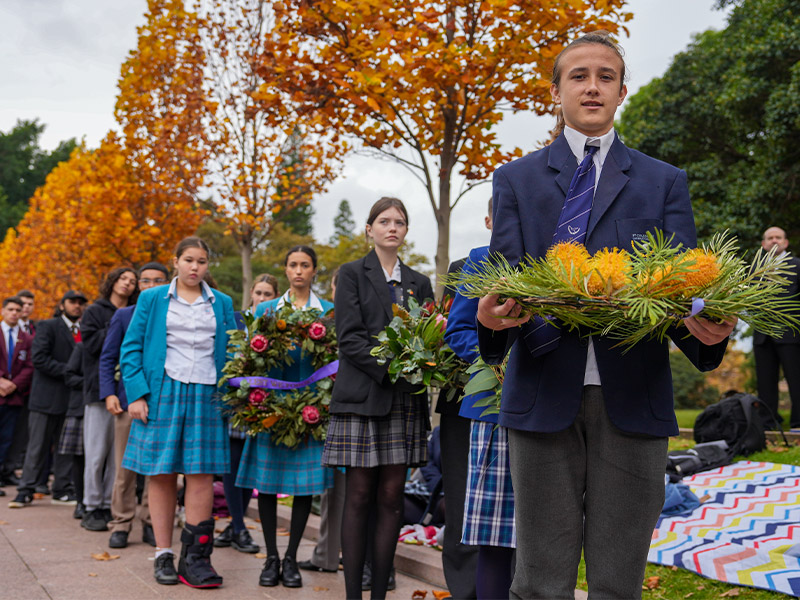 Students and staff proudly represented Catholic Schools Parramatta Diocese at the 2023 Indigenous Veterans Commemoration Service at Hyde Park.
Catholic Schools Parramatta Diocese (CSPD) students, staff and members of the Jarara Cultural Centre attended a moving ceremony at the 2023 Indigenous Veterans Commemoration Service at Hyde Park.
The event commemorates the service of Aboriginal and Torres Strait Islander veterans, combining conventional military protocol with Indigenous ceremonial display and with a focus on attendance by school children.
CSPD was certainly well represented as Indigenous and non-Indigenous students took part, many laying wreaths which not only represent local flora and native plants from their school and local area but also hightlight a connection to country.
The event was attended by surviving Indigenous veterans, military officials and dignitaries including the New South Wales Premier, the Hon. Chris Minns and Lieutenant-Governor, His Excellency the Honourable Andrew Bell.
"The majority of Australians wouldn't have a clue about Aboriginal history," NSW Aboriginal and Torres Strait Islander Veterans and Services Association president David Williams said. "The service is important not just for the recognition of Indigenous service, but also to highlight the continued need to support veterans."
The service helped launch National Reconciliation Week which encourages all Australians to learn about our shared histories, cultures, and achievements, and to explore how each of us can contribute to achieving reconciliation in Australia.
---