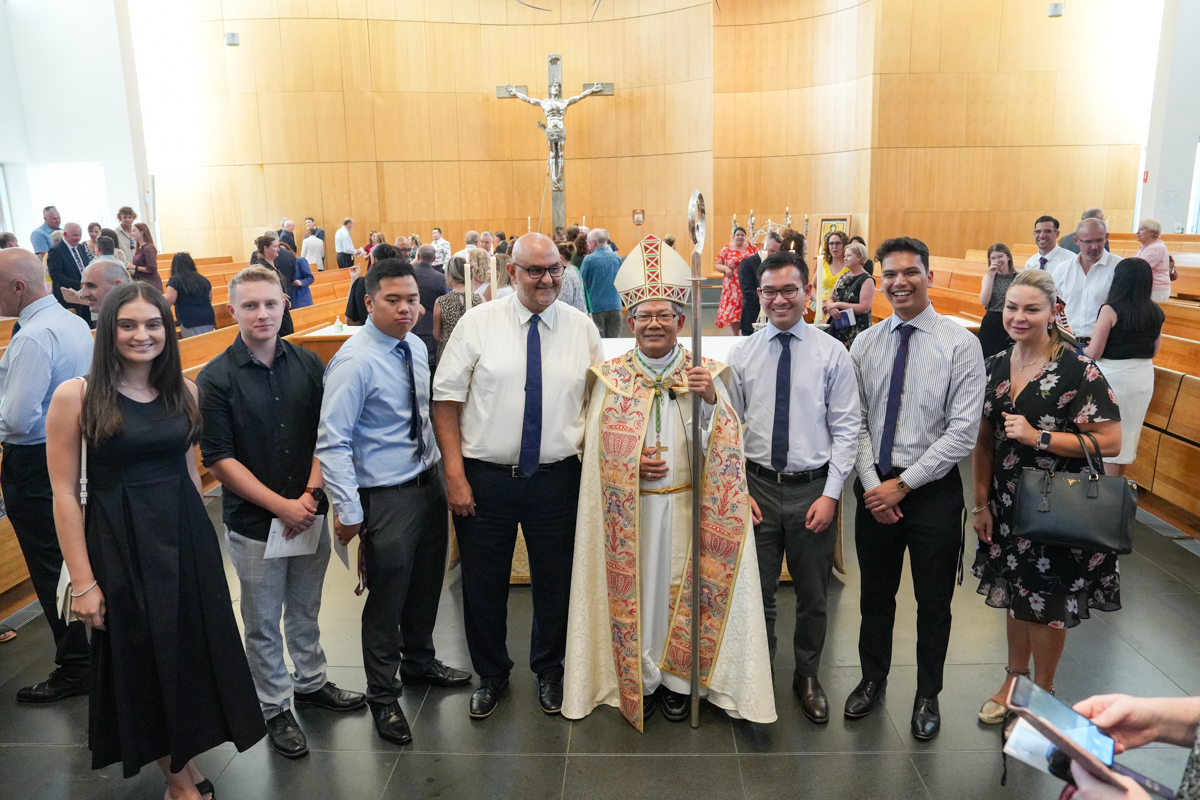 Beginning teachers, new school principals and leaders gathered for a moving celebration at St Patrick's Cathedral Parramatta as Bishop Vincent Long and Parish Priests blessed and welcomed Catholic Schools Parramatta Diocese staff to their new roles.
The annual Commissioning ceremony is a special occasion for staff as we acknowledge and celebrate the important work of educating young people in the Diocese of Parramatta.
In a stirring homily, Bishop Vincent called for a new paradigm of Catholic life and education that is 'equitable, sustainable, harmonious' and shared with and for all.
"I believe that as educators, we have the opportunity to form a new generation that values the common good more than individual success," Bishop Vincent said. "Just as the Pope calls for a new politics of inclusion in the light of the systemic inequalities in the world, we also need an education that forms young people into men and women of deep empathy, solidarity, communion as opposed to individualism and self-interest which is so rampant in our society."
"I am grateful for your 'Yes' to the call of service to the young people in our learning communities across Western Sydney and the Blue Mountains," he said.
This year, the new Executive Director of Catholic Schools Parramatta Diocese Jack de Groot was commissioned alongside 5 new school principals and 190 new teachers at our schools across Western Sydney and the Blue Mountains.
"It was wonderful to share this special occasion with so many colleagues starting out on their journey with Catholic Schools Parramatta Diocese, just like me," Jack said. "I especially enjoyed seeing the enthusiasm our new teachers bring to their work, and to making the difference in our students' lives."
Gerard Giesekam, who commenced in 2022 in the role of Director Finance and Infrastructure for Catholic Schools Parramatta Diocese, was also commissioned.
Our Lady of the Nativity Primary Lawson Principal Matthew Bond was one of the new school principals commissioned at the Mass. He said he was proud to take on the responsibility that comes with Catholic leadership.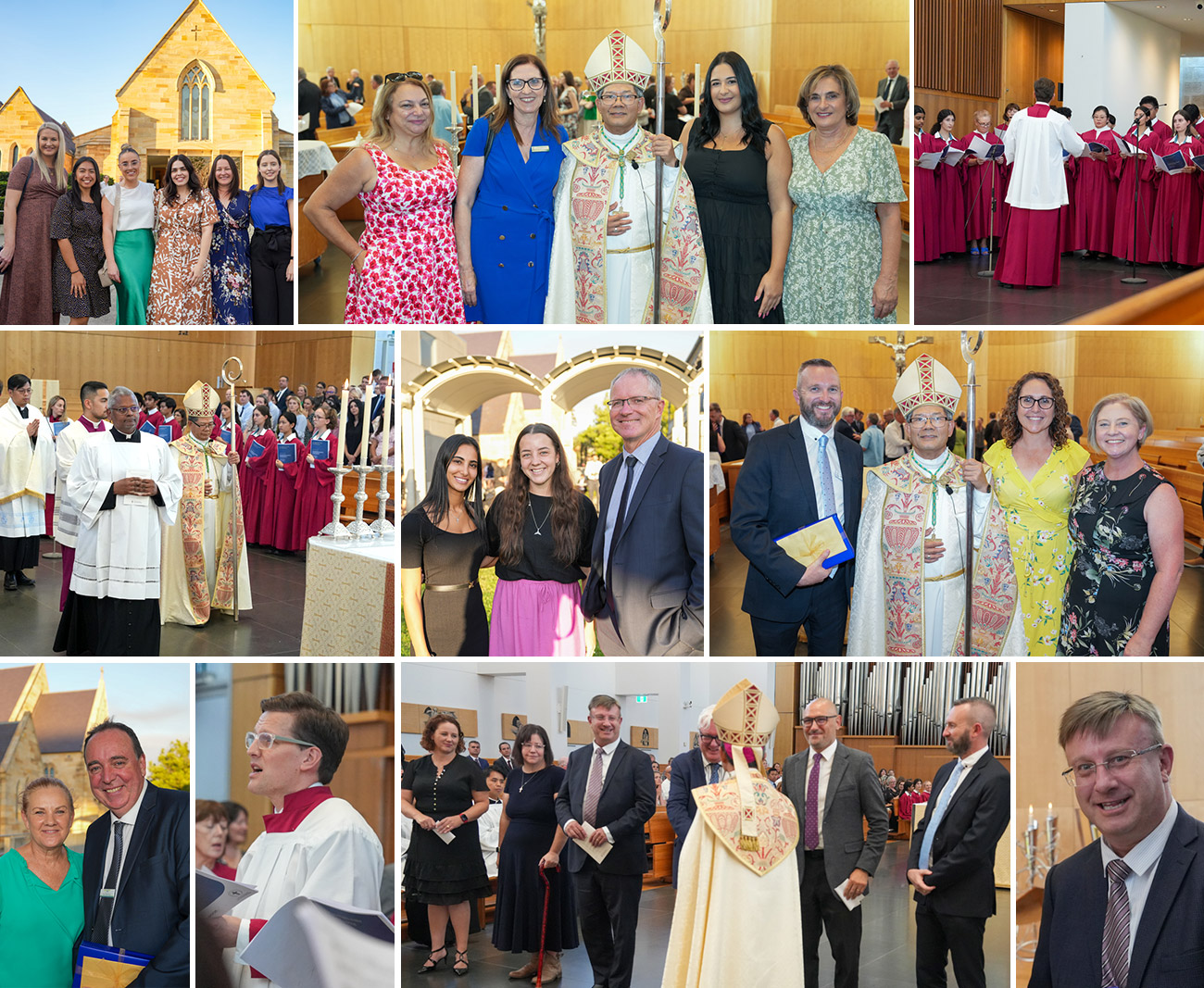 "It is a responsibility to serve the community that you are a part of," said Matthew. "To be compassionate, kind and a continual learner."
Having wanted to be a teacher from a young age, Matthew credits former St Michael's Primary Baulkham Hills Principal, Dr Jennifer Fraser for encouraging him to explore leadership opportunities.
"The trust I was given and the future responsibilities given to me by Dr Fraser gave me the confidence and capacity to take on greater leadership opportunities and focus on what is important in schools: students and their learning," he said.
Laura Obilinovic is starting out her career teaching Year 1 at St Michael's Baulkham Hills. She developed her interest in teaching after years of coaching basketball and watching young people grow in understanding and confidence as a result.
"I hope to be able to develop that same love of learning in my students so that they finish the year with the confidence to go out and find information for themselves," Laura said. "I would like to create a classroom that allows for all kinds of learners so that they enjoy the work they are doing and are able to achieve their personal goals."
Isabella Sabbouh from St Patrick's Primary Guildford is enjoying the start of her teaching career in the Year 4 classroom. She said the connections she has already made with students and staff feels like family. "Each day I get to work with inquisitive young minds, eager to learn and share their ideas with me and it makes me feel as though I have a second home," Isabella said. "I love to be influential in students' lives, inspiring and motivating them to achieve their potential. I especially love working at St Patrick's because the staff have been exceptionally helpful and caring."
At St Agnes Catholic High School Rooty Hill, new teachers Merna Oraha and Yasemin Kurt are undertaking their first year of teaching as part of the conditional accreditation program that allows them to continue studying while gaining valuable experience in the classroom.
Teaching History and Geography, Merna said she is passionate about ensuring students get a quality education.
"I've always had a passion for education because there is just so much potential for students through their learning," said Merna. "I wanted to be a part of making a difference for students."
For Yasemin, who completed an undergraduate degree in Medical Science, teaching is an opportunity to share her love of science with Years 7 and 10 students.
"It's so great to teach something that I am passionate about and amaze them with new concepts," said Yasemin. "Watching students develop their love for science is something I would love to see."
---
View the full gallery from this event